Professional Development Dimensions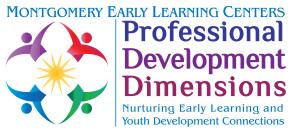 Visit The Professional Development Dimensions Website
Mission Statement
Professional Development Dimensions, formally known as The Southeastern PA School Age Child Care Project (SEPASACC) is a regionally-based professional development and technical assistance division of MELC, supporting both public and private after-school programs in the Philadelphia region whose mission is to encourage the development and expansion of high quality and innovative out-of-school time programs by using strategies, tools and processes grounded in best practices, research and national standards.
About Us
Since 1986, we have worked to improve the quality, quantity and capacity of school-age programs in southeastern Pennsylvania. PD Dimensions strives to provide the necessary tools, systems and resources to school-age programs and practitioners seeking to engage in continuous quality improvement. PD Dimensions collaborates with the Office of Child Development and Early Learning and the Southeast Regional Key to support school-age and early learning practitioners through professional development, technical assistance and the provision of resources.
PD Dimensions has established itself as a leader in the development of school-age child care services by encouraging the development and expansion of high quality before- and after-school programs for children 5 to 14 years old; by providing consistent field tested technical assistance; by providing innovative professional development opportunities; and overall, by building partnerships with people, programs, community organizations, policy makers, faith communities, school districts, local government agencies and business leaders to address the needs of school-age children and their families for care during out-of-school times.
For the past 25 years, PD Dimensions has worked directly with over 1,500 organizations in Southeastern Pennsylvania embedding best practices through technical assistance and professional development. Our Resource Lending Library contains nearly 3,000 resource specifically related to school-age care and after-school programs. We have conducted professional development for over 15,000 school-age care attendees. Since its inception, PD Dimensions has awarded over 4.38 million dollars in start-up, expansion and quality enrichment funding for over 500 programs. Over 20,000 children have participated in school-age child care programs funded by PD Dimensions.
Services
Professional Development
SEPASACC offers a comprehensive professional development calendar and community based workshops that encompass entry level to advanced level sessions. Professional development offerings are carefully developed to reflect the most current knowledge in the field and to respond to the needs of practitioners.
Technical Assistance
Technical assistance is an on-site targeted support system that helps practitioners improve the quality of services to the children in their care, their families and the community. Technical assistance also aids the staff, director and/or concerned stakeholders in mastering details that need to be addressed to make sure the program operates smoothly.
Positive Behavior Supports & Coaching
Challenging behaviors are a continued concern of administrators, educators, program practitioners, parents and staff across the state. Our positive Behavior Supports and Coaching services challenges the punitive and reactive approaches to discipline with an alternative positive behavior approach that recognizes the broader set of variables (environment, relationships, interactions, expectations, etc.) that can affect behaviors.
Fee For Service
SEPASACC has endorsed a training philosophy that facilitates the development of professionals and leaders in the field. We are able to provide a growing number of dynamic professional development opportunities that suit the needs of your center.
Contact Us
201 Sabine Avenue
Narberth, PA 19072
P: 610-617-4550
F: 610-617-3550